High Peak Finland Oy
Olemme vuonna 1998 perustettu, lähes 20 vuotias pitkän historian omaava yritys. Tänä päivänä olemme yksi Suomen suurimmista toimijoista liikelahja- ja promootiomarkkinoilla. Palvelemme asiakkaitamme 25 innovatiivisen ja kokeneen alan ammattilaisen voimin. Toimipisteemme sekä laajat myyntinäyttelymme sijaitsevat Tampereella ja pääkaupunkiseudulla Espoossa. Meillä on viisi toimialaa: liikelahjat, tapahtumatuotteet,​ maahantuonti, tukkukauppa sekä verkkokauppakonsepti.​ Maahantuonnissa meillä on tehdastilausten lisäksi omia yksinoikeus brändejä kuten Abacus golftekstiilit. Olemme myös Amer Sports Suomi Oy:n kumppani Suunnon, Salomonin ja Wilsonin BtoB-myynnissä. ​Kuulumme ainoana suomalaisena jäsenenä mainostuotteisiin erikoistuneista yrityksistä koostuvaan kansainväliseen WAGE Group-verkostoon. Olemme enemmän kuin perinteinen mainos- ja liikelahjayritys. Huipulla näkökulma on 360˚, mikä auttaa meitä huomaamaan asiakkaidemme tarpeet ja kuulemaan toiveet!
We are a company founded in 1998, with almost 20 years of long history. Today we are one of Finland's largest players in the business gift and promo market. We serve our clients with 25 innovative and experienced professionals. Our offices and our extensive sales exhibition are located in Tampere and in the metropolitan area of Espoo. We have five industry segments: business gifts, event products, import, wholesale and e-commerce. At import we have factory orders in addition to our own exclusive brands such as Abacus golfttextiles. We are also partner of Amer Sports Finland Oy in Suunto, Salomon and Wilson BtoB sales. We are the only Finnish member of the WAGE Group network of companies specializing in advertising products. We are more than a traditional advertising and business gift company. At the top, the viewpoint is 360˚, which helps us to find the needs of our customers and to listen to their wishes!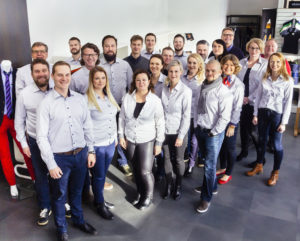 Address:
Sinikalliontie 3A
02620 Espoo
Email:
myynti@highpeak.fi
Contact this partner
Fill in the form for further assistance, print proposals, quotations and requests