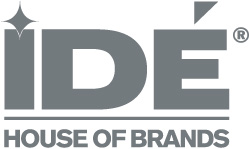 IDÉ House of Brands Finland Oy
IDÉ House of Brands on elinkeinoelämälle suunnattujen mainos- ja yrityslahjojen kokonaistoimittaja. Visiomme on olla ihannetoimittaja, joka piristää työelämässä olevien ihmisten välisiä suhteita. IDÉ on pohjoismainen toimija, jolla on 25 vuoden kokemus vaativien asiakkaiden palvelemisesta. IDÉllä on useita toimipisteitä Norjassa, neljä Ruotsissa ja kaksi Tanskassa ja yksi Suomessa. Laajeneminen Pohjoismaiden markkinoilla helpottaa myös tuotteiden toimittamista Pohjoismaiden ulkopuolelle. IDÉllä on kattava tuotevalikoima, vankka osaaminen, pitkä kokemus ja erinomaiset toimitusajat. Yrityksellämme löytyy myös laadun ja ympäristön ISO sertifikaatit. Näin takaamme hyvän palvelun kaikille nykyisille ja tuleville asiakkaillemme.
We are a leading profile and promotion company situated in the Nordic region of Europe. We currently have 13 offices in Norway, Sweden, Denmark and Finland, each with their own sales staff and showrooms.  In Finland you may find us in Helsinki. IDÉ House of Brands has more than 25 years of experience in profiling and promotion market, we are trading products from all over the world and branding them to your need and desire.
Address:
Paulaharjuntie 22
90530 Oulu
Email:
Kontakta denna partner
Fyll i formuläret för vidare hjälp, tryckförslag, offerter och beställningar