Digital catalogue with pens only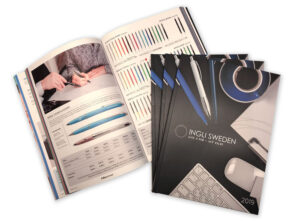 Our digital catalogue with pens only is a document for those who want a good overview of all the pens in our range. The catalogue is meant to be an inspiring and informative tool for both partners and end-users, and therefore it is provided with recommended retail prices. Please feel free to contact us if you want more information about us, our range of pens or wish to order the catalogue in printed format. Below you will find the link to the digital catalogue. You can also choose to download the catalogue as a PDF.
Link to Digital Catalogue August 2019 >>
Download the catalogue as a PDF >>
New pens 2019
The catalogue is divided into chapters based on the different brands we offer. In the catalogue introduction, we list pens in different categories along with all new pens for 2019. A pen that has already become very popular is Add Bamboo, a ballpoint pen with rubberized surface from our own brand INGLI. All new pens are also available here on the site if you want to download pictures or calculate with prices for different printing options. Use the Pen Selector and choose "News" under Promotion and News to view all new pens or click here.