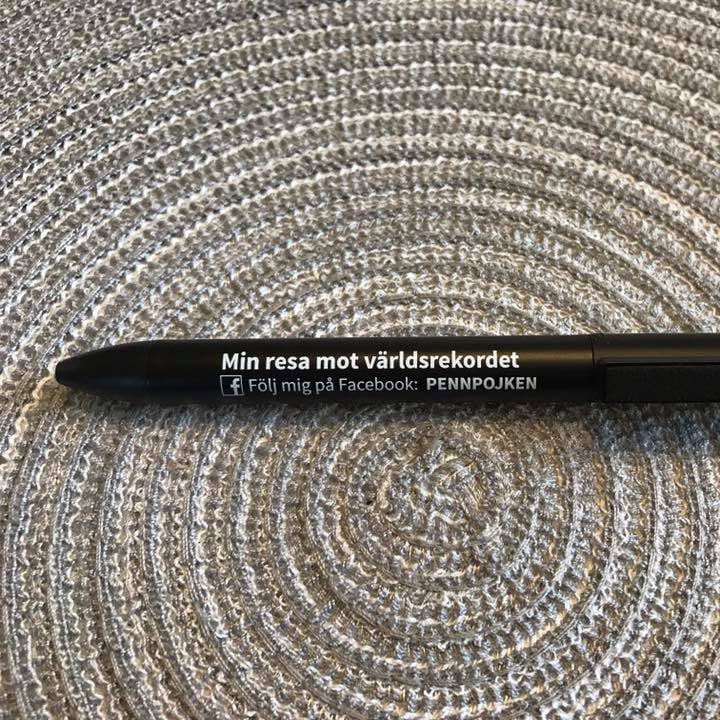 Follow the PenValue blog
The PenValue blog is intended for those who want to stay up-to-date on the latest in promotional pens and monthly wish to get new inspiration and knowledge about how promotional pens can make the marketing more effective.
Sign up here
Help "The Pen Boy" break the World Record in promotional pens
Contribute with promotional pens
The Pen Boy Adam Karlsson's greatest wish is to break the World Record in promotional pens. We have previously told the story of autistic Adam who is going through a fantastic personal development thanks to his interest in promotional pens. For him pens have become a symbol of courage and to collect them has meant that Adam nowadays is capable of things that was completely impossible before.
To break the world record Adam needs to collect 268 000 promotional pens with different printings. With the help of his parents and donations from dedicated individuals all around Sweden he has managed to collect incredible 150,000 pens – but the record is not yet within reach.
SEND Adam YOUR Promotional PENS to help him in the race for the world record.
When we met Adam a couple of weeks ago we had the pleasure to help him with numerous promotional pens for his collection. But we will continue our contribution and now we want to encourage everyone, individuals and companies, to do the same.
So look through your drawers at home, or ask all colleagues to empty their desks. For sure there will be a whole bunch of promotional pens that you can spare (they do not even have to write) to help this brave, inspiring young boy to fulfill his dream.
Enter your e-mail address in the form below to get information about how to send your promotional pens to Adam "The Pen Boy".
All contributions are welcome, big and small!
Follow "The Pen Boy" on his journey towards the World Record on his Facebook page
Read more about Adam in our recent blog post "The story about The Pen Boy"