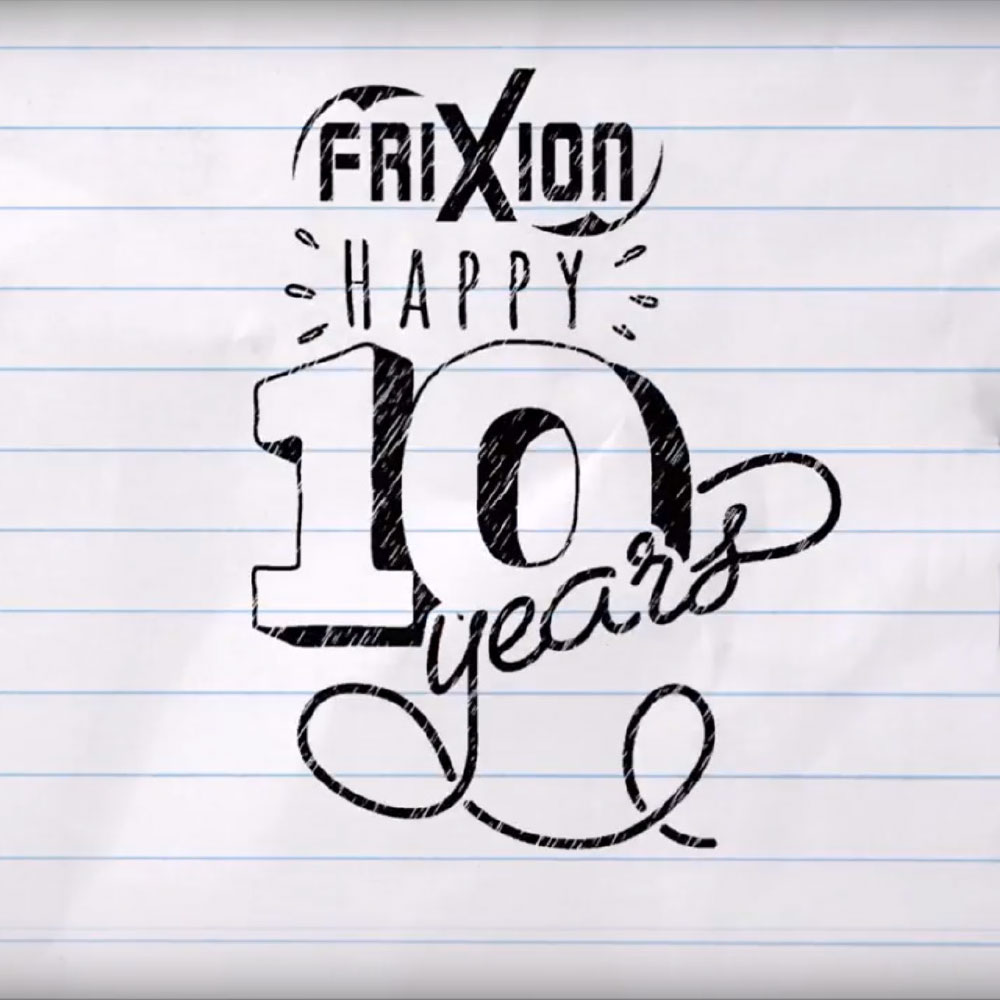 Följ Penvalue bloggen
Vill du hålla dig uppdaterad om det senaste kring reklampennor och månadsvis få ny inspiration och kunskap om hur reklampennor kan hjälpa dig effektivisera din marknadskommunikation? Då är Penvalue bloggen något för dig.
Prenumerera här
Pens with erasable ink – FriXion 10th anniversary!
10 years ago, the first FriXion pen was launched on the market. FriXion is a range of pens from the Japanese brand Pilot, which all have one thing in common – erasable ink! Most popular of the FriXion pens is the world famous FriXion Clicker that has become highly appreciated, not least among students. Obviously, the erasable ink is the main reason this pen has become so popular, but the unique click function and the ink being available in several different colours has also contributed to its great success.
A REVOLUTIONAL INK WITH UNIQUE QUALITIES
Pilot is one of the world's leading (and oldest, established in 1918) manufacturers of writing instruments, well-known for developing innovative pen solutions for different purposes. Through investments in research and an expertise in chemical engineering, Pilot has developed several ink technologies revolutionary for the market. One of them is the thermosensitive ink included in the FriXion range with unique qualities that make it invisible when exposed to heat, or more accurately at temperatures above 60 °C. The technique is based on friction, why all FriXion pens have a special "eraser" that can heat up the paper surface and make the ink invisible without tearing the paper apart.
Fun to know is perhaps that this technology also works conversely, which means that the invisible text will reappear at temperatures below -10 °C. So, should you erase the wrong thing or happen to leave your notes somewhere hot, for example a sunny day in the car, you can easily make the text come back by putting them in the freezer.
FRIXION STILL LARGEST ON THE MARKET
When FriXion was launched 10 years ago, it was a great innovation that was going to have a major impact on the writing market. But even though we have seen a lot of ballpoint pens with erasable ink since then, there is still no version that can really compete with the functionality of the FriXion pen and the technology behind it.
So, congratulations to Pilot and the FriXion pens with erasable ink on their 10th anniversary!
More information about the FriXion pens can be found here: FriXion Clicker / FriXion Clicker White / FriXion LX