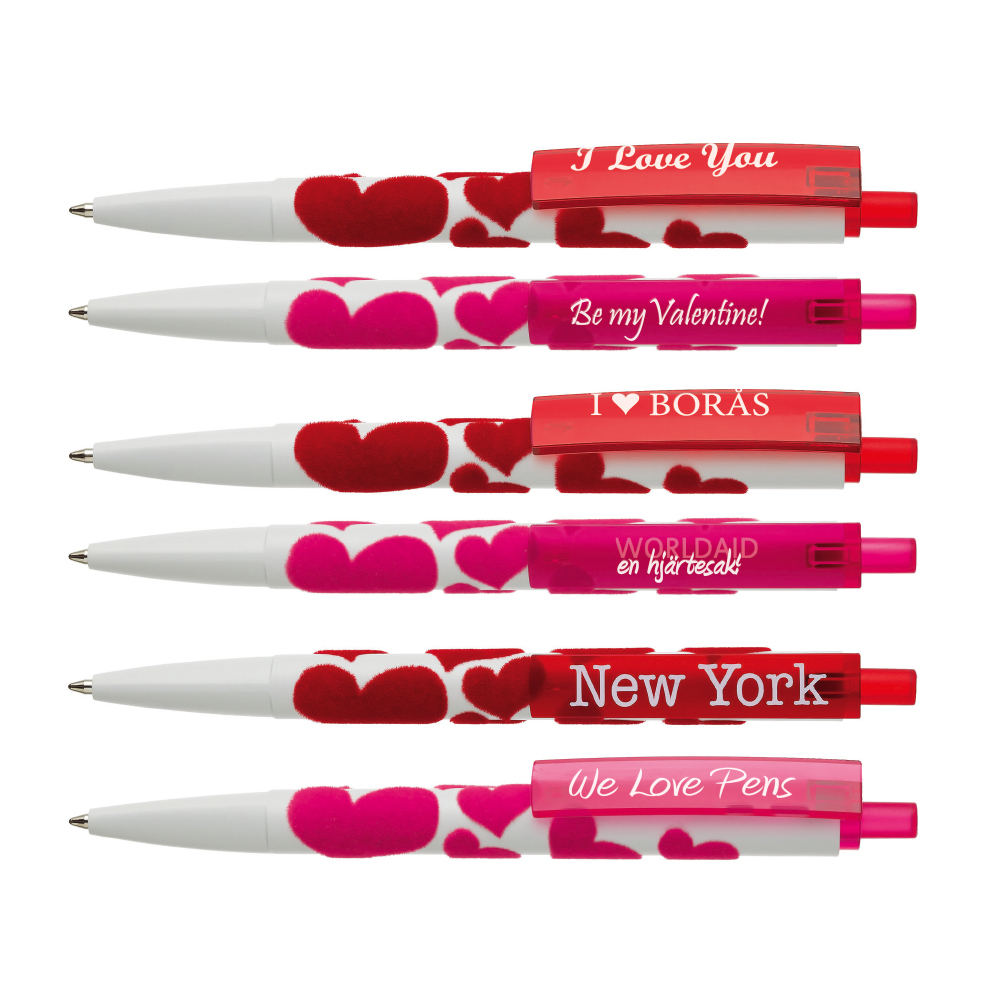 Följ Penvalue bloggen
Vill du hålla dig uppdaterad om det senaste kring reklampennor och månadsvis få ny inspiration och kunskap om hur reklampennor kan hjälpa dig effektivisera din marknadskommunikation? Då är Penvalue bloggen något för dig.
Prenumerera här
A pen can say a thousand words
Last year we had a campaign for Valentine's Day with the message "say it with a pen." So what can a promotional pen really say?
A pens appearance and function can inspire and encourage using the pen, but also say something about you as a person. This applies both for the giver and the pen user. Different pens entice different things. What do you want the recipient of a pencil to feel? What does your pencil say about you?
Combine business with pleasure
At the middle school I swapped three of my best hockey collectible cards and five of my nicest glitter bookmarks for a green multi-pen. The pen had not only 10 different pins in cheerful colors, but each color was also perfumed by different sweet fruits. The pen made it fun to write and I felt both joy and a certain pride every time I picked it up out of the yellow school bench.
Smarty-Pants-PEN
When I applied for my first "real" job I stepped into an elegant office where I was greeted by a friendly desk manager. She asked me to fill out a paper and handed me a pen. It had a certain weight and a nicely engraved logo, it felt really "luxurious". The receptionist then told med to "keep the pen", this because it was the best she has written with. I brought the elegant pen with me on many important meetings after that. Meetings where a green multi-pen with fruit fragrance certainly would have been fun – but it had not really communicated the professional image of me that I strove to convey.
PENS OF CREATIVITY
Another gift pen that I remember well is the one I got at a workshop for creative writing. The person leading the workshop had brought a whole box of different pens and asked us to choose one each. It was really interesting to see the other participants all select pens that seemed to match their own personal "brand."
There were classic pencils, modern pens, metal pens, glitter pens, pencils of different colors, "regular" advertising pens with logo, pens, wood pens, ink pens, felt-tip pens and pencils. For some reason, I chose a with wide-eyed fluffy bird pen. I don't know why I chose that specific pen, but it made me feel happy. The pen ink ran out shortly after the workshop ended, but I saved the pen and placed it on my desk as a reminder.
PENVALUE
To get back to the point; whatever the context or purpose – to give away a pen and generate a feeling with the recipient are valuable. Pens can inspire but also communicate who we are – both as individuals and as a company. They can also perform different functions depending on need or situation.
It is possible to "say it with a pen." This may include giving a pen to a friend before starting school (good luck!), a giveaway at a trade show (we are here!) or to the visitor to the company's reception (stay in touch!). If the pen gives value and communicate something to the receiver it is always a "win". So when you choose a pen to give away, do it with care, focus on quality and select the one that goes in line with what you want to communicate.
And now for Valentine's day – why not choose a pen with hearts?