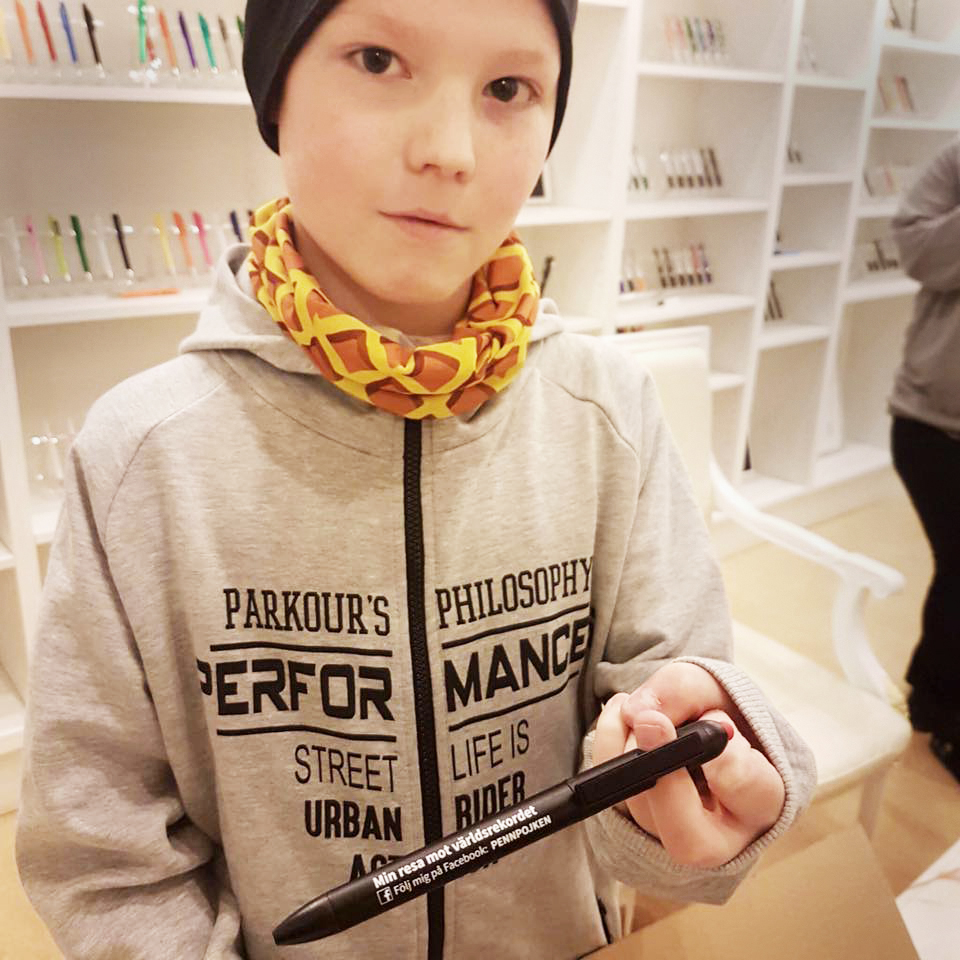 Följ Penvalue bloggen
Vill du hålla dig uppdaterad om det senaste kring reklampennor och månadsvis få ny inspiration och kunskap om hur reklampennor kan hjälpa dig effektivisera din marknadskommunikation? Då är Penvalue bloggen något för dig.
Prenumerera här
The story about "The Pen Boy"
A couple of weeks ago we had a visit from ten year old Adam Karlsson and his parents from Motala. Adam, better known as "The pen boy", has quickly engaged throughout Sweden with his collection of promotional pens and the race for the world record. To meet him and take part of his story was both inspiring and a learning experience.
The history of "The pen boy" and his great interest in promotional pens started last summer on the rescue fair in Jönköping. Adam had long been fascinated by "Assistancekåren" so when his mom Katja and her husband Björn heard that one could visit them on the rescue fair, they decided to go.
The start of the pen collection
Adam, who has autism, usually have difficulties to open up and connect with others. He often become reclusive in situations and places with a lot of people. But a meeting with "Assistancekåren" was tempting so they went. In their booth "Assistancekåren" handed out promotional pens. After encouragement from his family, he managed to bring out the courage and approach the staff. The pens he received during that meeting was to be the start of a huge personal development for Adam.
Special interest
That children / adults with autism develop a special interest is very common and to Adam promotional pens was something that he could associate with freedom and courage. The collection was initially quite modest but would soon be growing at rocket speed. It was in November, shortly after Adam's grandmother passed away, that the family decided to move. Adam, who find change difficult, felt very sad during this period so his mom Katja decided to try to cheer him up. This by placing an advert for promotional pens on a swedish website. That they would get such an incredible response to the ad she had never been able to believe. Within a few months the ad had been shared a couple of hundreds of times on Facebook and the family received over 80,000 promotional pens sent to them by mail.
Beating the world record in number of advertising pens
Adam has a remarkable memory and know exactly what pens he has and how many there are. As the collection grew an idea awakened, the idea of ​​trying to beat the world record, which is currently at 268 000 pens. To Adam's parents it is a given that they will try to help him fulfill his dream.
Children with special needs often struggle to fit in, but thanks to his interest in promotional pens Adam can now handle things that before could be completely impossible. He dares to take place and meet people. He talks freely, doing live broadcasts on their Facebook page and he goes out on "pencil tours" to expand its collection. A fantastic development that his parents will do everything to support. What role models they are all three!
His very own "Pen boy"-pens
During the visit with us, we saw nothing of the shy, silent guy we heard that Adam can be. Instead, we saw a charming and curious guy with a passion for pens. It was therefore a pleasure to show him around in our pen display and the print shop where he learned about the different printing techniques and also given the opportunity to print his own promotional pens. Promotional Pens which he can use to promote himself and take him on in the race for the world record.
The dream pen
The pens that Adam got was a joint gift from Ingli Sweden and our partner "Tupp Reklam" who also initiated the visit. During the visit Adam described his dream pen, it would be a pen that is also an ice cream. Ideally, of course, it would be a real ice cream that they could both eat and write with, but a pen that looks like an ice cream is also very high on the list. Adam does not know it yet, but his own ice cream pen is currently being manufactured and we will shortly send it to him as a further contribution to the collection!
With that said, it is impossible not to be impressed and inspired by this guy and his amazing story. Follow "The Pen boy's" journey towards the world record on his Facebook page and get involved too!