Check out our new promotional pens for 2018
2018 offers a lot of novelties, even when it comes to promotional pens. The trend of matte black and sporty fluorescent colours that we saw last year will continue, as well as rubberized surfaces and the somewhat more elegant pens with chrome details. Here is a short summary of this year's new promotional pens. Below there is also a link to all new items in the assortment.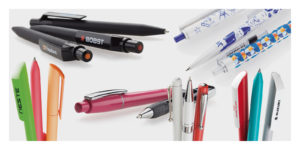 Excel – NEW PROMOTIONAL PEN FROM OUR OWN BRAND INGLI
Excel is a new promotional pen from our own brand INGLI with an innovative industrial design. The rubberized, ribbed pen body makes the pen fit firmly in the hand. The solid clip emphasizes your brand in an attractive way. In addition, the pen has a really favorable price compared to other rubberized pen models.
NEW ITALIAN PENS FROM MAXEMA AND STILOLINEA
Our large Italian manufacturers Maxema and Stilolinea have both released some really nice promotional pens this year. Maxema has added 3 new models to the stylish Pure-series available in a wide range of colours. Pure Matte, Pure Matte White and Pure Matte Extra all looks really nice and can be printed on both barrel and clip. Stilolineas assortment has been supplemented with Tethys Chrome and Semyr Grip Extra, both with elegant chrome details, as well as one brand new pen model S45 Total in a classic design with a large print area.
Erga – another well-known brand to OUR assortment
This year we are also delighted to welcome Erga as another well-known brand to the assortment. Special for Erga is the unique printing possibilities offered on their pens. With their so called 360° Communication it is possible to customize the whole pen barrel and use a combination of visual, tactile and textual elements that transmit your message with utmost efficacy. In the Erga range you can find the popular E-venti series, which this year has been supplemented with one eco-friendly and one rubberized version, E-Venti Recycle and E-Venti Soft. We are also happy to announce two brand new pen models from Erga, e-Fifty, and e-Twenty, that we recommend you to take a closer look at.