Our new Eco-pens! See the full range here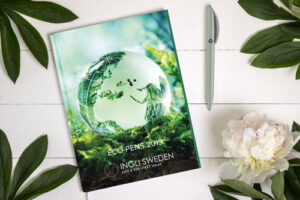 Now we can offer a new range of Eco-pens with several interesting novelties. The demand for eco-pens is high and our ambition is to continuously expand our range with better alternatives for the environment. We have, for example, pens made of biodegradable PLA plastic (s.a. Bio-S!, Vegetal Pen, S45 Bio), pens made of recycled plastic (Pixel Recycled, Elis Recycled,  E-Twenty Recycle and Acroball), recycled PET plastic (Pet Pen) and Friendly Highlighter in recycled paper. Another novelty is the range of wheat hybrid pens where the plastic is of 40% wheat straw (Add Bamboo Hybrid and Dart Hybrid)
A new range of Eco-pens
You can find our full eco-range here on the site if you want to download pictures or count on prices with different print options. You can easily find them by opening the Pen Selector and selecting "Eco pen" or by clicking here.
Download our Eco-brochure
See the full eco-range in our new brochure. It only contains pens manufactured in materials that are better for the environment. The concept of the brochure is to inspire and give you a quick overview of our full eco-range.